Transportrad Initiative Nachhaltiger Kommunen
What is TINK?
TINK stands for Cargobike Initiative of Sustained Municipalities (Transportrad Initiative Nachhaltiger Kommunen) and is a model project unique throughout Germany. TINK is part of the National Cycling Plan 2020 (NRVP) and will thus be funded by the Federal Ministry of Transport and Digital Infrastructure (BMVI) for three years. For TINK nextbike expands its fleet in Norderstedt by 24 cargobikes and 15 e-cargobikes, which can be rented at the usual nextbike stations. TINK aims to make functional and climate-friendly cargobikes sufficiently available.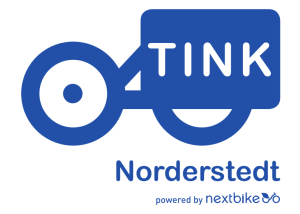 How does TINK work?
To rent a cargo bike, you simply have to register with nextbike. Find out how it works here.
If you are a nextbike customer already, you can rent your cargo bike as usual via the nextbike app or at the terminal. Since this is a pilot project, we will ask you to accept the terms and conditions again before your first rental. For research purposes, we might contact you occasionally to find out about your experiences with TINK.
You want to make sure there is a cargo bike available right when you need it? Use our booking function and save your cargo bike up to 30 minutes in advance via app or website. Your bike will be blocked for others to use. In case of non-use, a booking fee of 2 € will apply.
Stations
You can rent and return your cargo bike at all nextbike stations in Norderstedt. Use the nextbike map to find out at what station the next cargo bike is available.
What kind of cargo bikes do we offer?

Two-wheeled cargo bike with space for two crates
Three-wheeled cargo bike with space for four crates
Two-wheeled e-cargo bike
Our cargo bikes have smoothly operating gears, a height-adjustable saddle and foldable child-carrier seats with safety belts for two children under 6 years.
After some habituation, the bikes are easy and safe to drive. So better take a little turn with the unloaded cargo bike to get used to it first.
Prices
Get your cargo bike free of charge for half hour per day. For each additional 30 minutes, you will be charged the standard rate. Or get the subscription:
Subscription I: 2h* free rental per day for 19 euros / month** (12 months)
Subscription II: 4h* free rental per day for 25 euros / month** (12 months)
You can rent up to four bikes/cargo bikes at the same time using one account. Special rates and offers only apply to the first bike, additional bikes are charged at the standard rate.
A service fee of 25 euros will be charged if the bike is not returned at one of the stations.
* can be split
** monthly debiting